Fire Hydrant Systems
Fire Hydrant Systems determine the pressure, power and promptness at which water is released in the case of a fire. The systems we provide, along with all its components, are calibrated to handle high pressure and ensure a quick response. We provide easy to operate fireplugs, sturdy hose pipes and high-efficiency engines and pumps. Moreover, the individual components are provided according to the needs of your establishment and the entire system is designed taking into the potential threats the building has.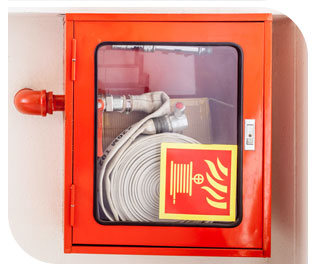 Hose Boxes
Fire is not an everyday event. But when it occurs you should be ready with the best material, preserved in ideal conditions. Our hose boxes can store fire extinguishers, hoses, nozzles and all your safety equipment. They create an ideal environment for storage and keep the equipment ready to use. Again, these are customised and come in various shapes, sizes and makes to suit your specific requirements.